Launch of The LeBrons (Upper Deck)
Feb 14, 2006

ESPNews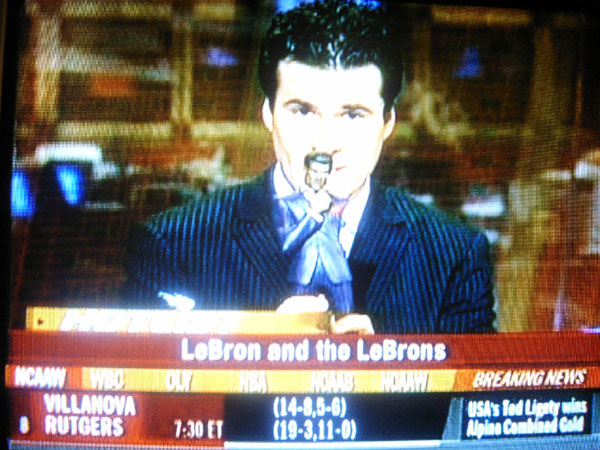 Linda Cohn, host:
"O.K., LeBron James. Speaking of putting on a good show -- he usually does that -- but he puts on a good show in his commercials, too.
A lot going on off the court for LeBron in a good way, marketing-wise: what's the latest buzz on LeBron?"
Darren Rovell, business reporter:
"Well, right now it's all about The LeBrons, this commercial where he stars as four of himself. It's a pretty funny commercial."
Cohn:
"...Great acting ability..."
Rovell:
"Yes, great acting ability..."
CUT TO: NIKE "THE LEBRONS" TV SPOT (ON SCREEN)
Rovell:
"There's the Wise LeBron, walking around with the milk carton there. And there's Business LeBron. A lot of people are buzzing about these ads."
BACK TO STUDIO
Rovell (cont.):
"Well, Upper Deck has actually come up with the idea of doing LeBron action figures based off the commercial. Here's the Business LeBron."
HOLD UP FIGURINE TO CAMERA
"The Athlete LeBron goes on sale tomorrow. It's 45 bucks at upperdeckstore.com and it's a limited-edition offering of 750.
Cohn:
"I think they look great."